So last weekend we went to Antiparos island for a wedding.
I didn't take many photos but here are some info about the island.
Antiparos is a small island in the Cyclades in the Aegean sea. It is located one nautical mile southwest of Paros and in order to get there you have to go from Paros.
Take the ferry from either Piraeus or Rafina to Paros island. The duration of the trip depends on which ferry you choose. From Paroikia port you have to get to Pounda.
You can reach Pounda by driving, bus or taxi.
From Pounda you get the ferry to Antiparos it takes about 7mins and it runs every half an hour. The ferry from Pounda to Antiparos can accommodate all types of vehicles.
Take the plane from Eleftherios Venizelos to Paros Community Airport.
Then again you have to get to Pounda and take the ferry to Antiparos.
We took the boat to Paros from Rafina and then some friends rented a car in Paros so they gave us a lift till Pounda where we took the ferry to go to Antiparos.
We booked our tickets from viva.gr but of course there are other sites you can use.
There are no taxis in Antiparos but there is a local bus that takes you:
1. from the port to the cave
2. from the port to the beach(Panayia, Glyfa, Apantima, Soros, Ayios Georgios)
You can rent a motorcycle, bicycle, car, quad from Antiparos.
You can bring your own car from Athens or rent a car from Paros (like my friends did)
We rented a motorcycle from Antiparos. It was 10euros per day. We wanted a 150cc but all they had was 50cc ones, the others were all rented out. We ended up changing motorcycles 3 times because the first one had really bad headlights so we were using the iPhone torch in order to see at night, the second one was just slow so when we passed by and saw a 150cc motorcycle waiting there we took it!
There are a couple hotels you can stay at but don't expect any fancy five star hotels.
We didn't stay in the town we stayed a further away because it was closer to the place where the wedding was taking place and also the hotel looked very nice. So we stayed at:
Ktima Zantidi
It is 5km away from the town and it has a nice sea view. We had a 2 bedroom accommodation.
Both rooms had a tv, there is a small kitchen and one small bathroom. Both rooms have doors so you can be independent if you are staying with friends. There is free wifi and free parking space.
The staff are very friendly and helpful. We stayed 2 nights and payed 50euros per day. I think it was the off season price but still it was better than my friends that payed around 80 euros per night and they were complaining that their bathroom was horrible!
I took a few pictures from the room (not the best ones) but forgot the bathroom.
The kitchen and the first room
second room
view from the room
Where to eat
(photo from their website)
It is very nice for breakfast/brunch. Of course you can go there for dinner as well.
For brunch they offer eggs, sandwiches, fruit salads, juices etc.
Its located on the main street of the town of Antiparos.
I had an omelet (it was not like my grandmothers but it was good) and a freshly squeezed juice.
My friends got the muesli which is homemade, fuit salad, a sandwich and yogurt with fruits.
They were all happy with their choices. They offer free wifi. The only compliant we had was with the service. They were very slow.
(photo from their website)
Its a fish tavern and it is located at Agios Georgios.
They offer fresh fish and seafood. The food is very tasty.
It is right by the sea with a great view of Despotiko island.
The staff is friendly and the service is very good. Both times Ive been there I was very satisfied.
Sometimes it gets crowded but there is enough space for everyone.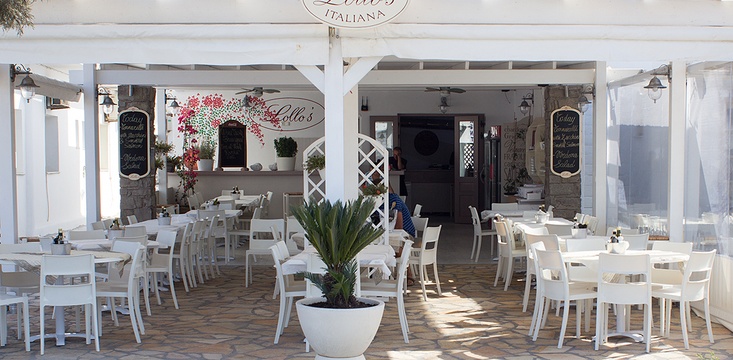 (photo from parosweb.com)
If you are in the mood for pizza go to Lollo's.
They offer think crust pizza baked in a wood burning oven.
They also offer take away.
Where to swim
If you don't want an organized beach go exploring if the weather permits!
Unfortunately while we were there it was really windy so we had to find the right beaches.
Vathys Volos in Agios Georgios is a sandy beach and you can rent an umbrella and sun-bed.
They don't have many umbrellas though so you have to go early to get one if it is crowded.
It is next to Captain Pipinos so after your swim you can get lunch there.
Nice sandy beach. They offer sun-beds and mattresses and it has a lot of shaded space.
There is a restaurant there as well (we didn't try it).
The sun-beds are 5euros each which is a bit expansive.
You can order drinks from the bar at the beach.
http://beachhouseantiparos.com
Again I would suggest exploring around. If I had more time thats what I would have done!
We only had time to go to those two beaches plus there were the only ones protected from the wind and waves.
Since I didn't take many pictures this visit you can check out more pictures from the island in my previous post when I visited last easter.